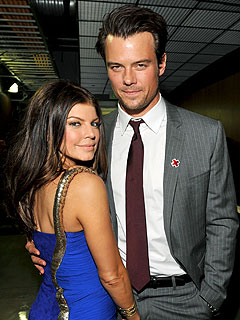 Fergie
may be the next star to join the Hollywood baby boom.
Now that the pop singer is on a break from the Black Eyed Peas, are she and hubby Josh Duhamel ready to start a family?
"Oh yeah, of course. Not right this second. Not pregnant, for the record. But, yeah," Fergie tells Hollyscoop.
While her bandmates are using the time off to work on solo projects, the singer is happy to have more time at home.
"We're taking a break ... getting more of that personal time," she says. "Josh and I have gotten to spend a lot more time together this year than other years, which is great."
The Black Eyed Peas picked up a trophy for Top Duo/Group at the 2011 Billboard Music Awards on Sunday and Fergie made sure to "thank our families for dealing with us."
'); var targetVideoWidth = 466; brightcove.createExperiences(); /* iPhone, iPad, iPod */ if ((navigator.userAgent.match('iPhone')) || (navigator.userAgent.match('iPad')) || (navigator.userAgent.match('iPod')) || (location.search.indexOf('ipad=true') > -1)) { document.write('
Source: http://feeds.people.com/~r/people/headlines/~3/zhq6wmf9Cns/0,,20496771,00.html
Kelly Brook Lokelani McMichael Monika Kramlik Alice Dodd Amanda Bynes