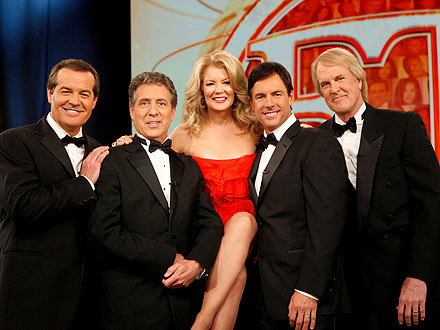 After nearly 30 years hosting
Entertainment Tonight
, the day has come for Mary Hart to put down her mic.
Hart, 60, whose hosting duties will be fulfilled by Nancy O'Dell, 45, was surprised with a party on stage after her final taping on Thursday. Unexpected guests, including Hart's former co-hosts John Tesh (co-hosted from 1982-1996), Bob Goen (co-hosted from 1993-2004) and Robb Weller (co-hosted from 1984-1986), were brought out for the big farewell.
Additionally, Natalie Cole surprised Hart and serenaded the departing host with her hit, "Unforgettable."
Admitting in November that leaving ET was "not an easy decision," Hart said, "Knowing I will pass the baton to Nancy O'Dell makes that decision much easier."
Fans can reach out to Hart and send their own messages via Twitter by Tweeting @ETonlinealert using the hash tag #WeHartMary.
? Dahvi Shira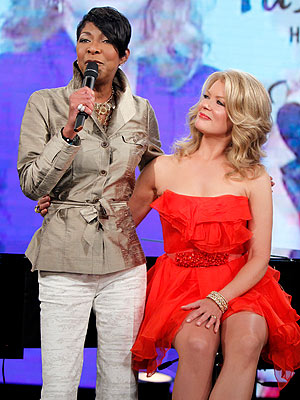 '); var targetVideoWidth = 466; brightcove.createExperiences(); /* iPhone, iPad, iPod */ if ((navigator.userAgent.match('iPhone')) || (navigator.userAgent.match('iPad')) || (navigator.userAgent.match('iPod')) || (location.search.indexOf('ipad=true') > -1)) { document.write('
Source: http://feeds.people.com/~r/people/headlines/~3/p4NbRfkgfCg/0,,20495988,00.html
Cindy Taylor Katharine Towne Kelly Brook Lokelani McMichael Monika Kramlik